Front Plant Sci. 2014; 5: 709.
Fonseca S, Rosado A, Vaughan-Hirsch J, Bishopp A, Chini A.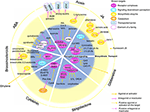 Plant adaptation, growth and development rely on the integration of many environmental and endogenous signals that collectively determine the overall plant phenotypic plasticity. Plant signaling molecules, also known as phytohormones, are fundamental to this process. These molecules act at low concentrations and regulate multiple aspects of plant fitness and development via complex signaling networks. By its nature, phytohormone research lies at the interface between chemistry and biology.
Classically, the scientific community has always used synthetic phytohormones and analogs to study hormone functions and responses. However, recent advances in synthetic and combinational chemistry, have allowed a new field, plant chemical biology, to emerge and this has provided a powerful tool with which to study phytohormone function. Plant chemical biology is helping to address some of the most enduring questions in phytohormone research such as: Are there still undiscovered plant hormones? How can we identify novel signaling molecules? How can plants activate specific hormone responses in a tissue-specific manner? How can we modulate hormone responses in one developmental context without inducing detrimental effects on other processes? The chemical genomics approaches rely on the identification of small molecules modulating different biological processes and have recently identified active forms of plant hormones and molecules regulating many aspects of hormone synthesis, transport and response.
We envision that the field of chemical genomics will continue to provide novel molecules able to elucidate specific aspects of hormone-mediated mechanisms. In addition, compounds blocking specific responses could uncover how complex biological responses are regulated. As we gain information about such compounds we can design small alterations to the chemical structure to further alter specificity, enhance affinity or modulate the activity of these compounds.